Vienna MP3 Cityguide
Your-friend.info offers a mp3 Vienna City Guide. It is free for schools, universities and congresses. RIPE 63 attendees can download it for free using the following code: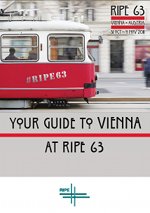 RIPE 63 Vienna Guide
RIPE NCC staff have put together a guide in which they share their experiences of Vienna. Please download the guide in PDF.
Guides for Children
The Parents' Group has put together some tips and links for family friendly outings.